my good friend whitney makes this amazing salad.
i try to recreate it sometimes, but its just not the same :) a few weekends ago, i made "whitney's salad" for lunch and snapped a few pics to share its deliciousness with the internet world. hope this isn't a secret family recipe or anything.......
i wanted to call this "the whitney," but that sounds more like a sandwich..? so "whitney's salad" it is.
so many different textures and good flavors combined. nom nom nom.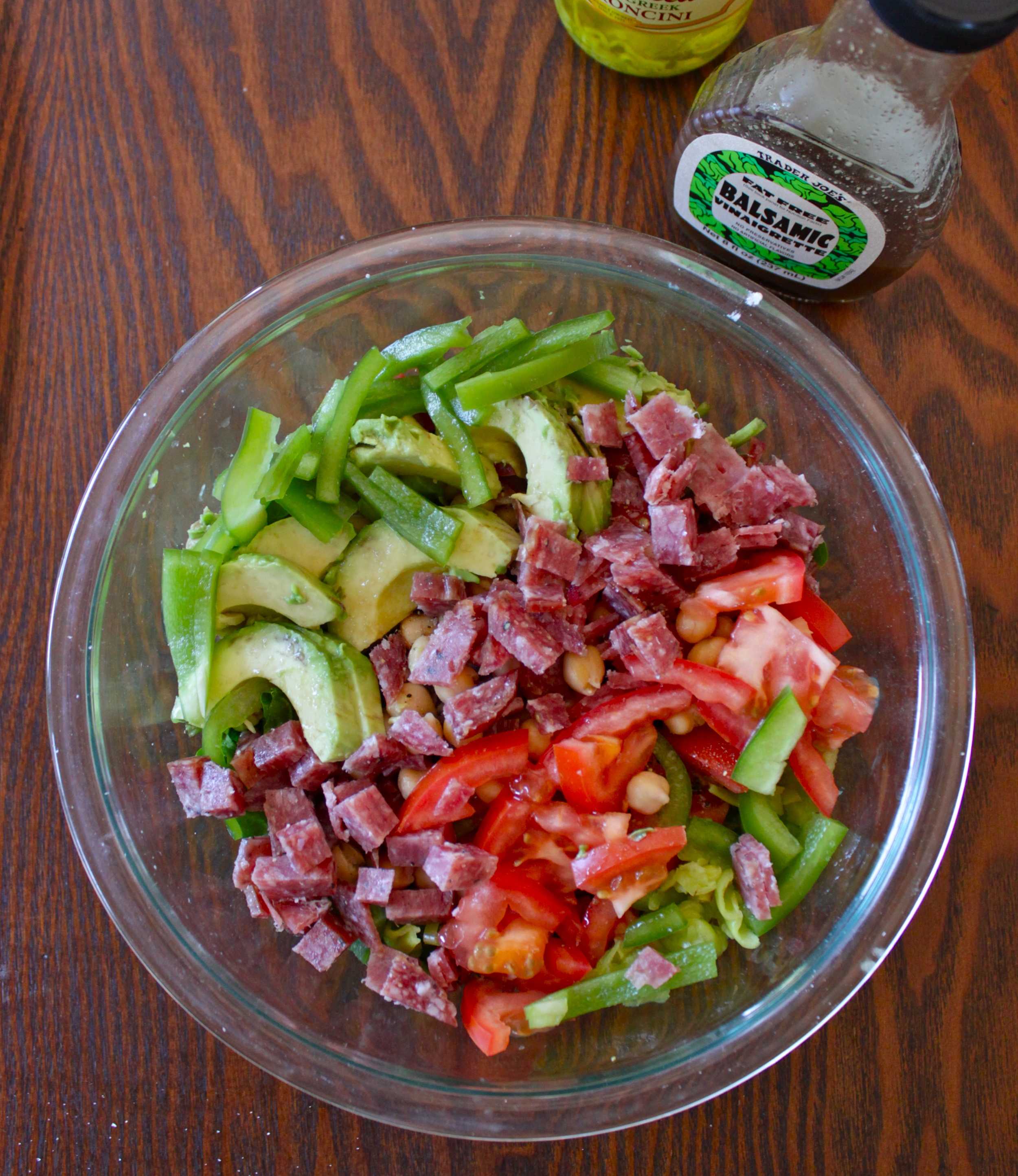 this salad is just so satisfying and scrumptious!!!! whitney is an awesome chick who i used to work with and then lived with for a few years and we went to nyc together last fall. she's da queen of making super quick dinners that always looked really yummy to me. and she'd often make a similar salad to this one. with perhaps a glass of red wine and some loud dixie chicks/classic hits on the side.
hi whit! great salad making skills you've got!
this is just my interpretation of the whitney salad that i'd see and eat sometimes, but i think the main differences are that:
she would use butter lettuce,
probably no tomato because i don't think she fancies them much,
no avocado? but she likes those. i also think that avo texture rounds out this salad perfectly.
the key whitney-style ingredients are: the banzo beans, salami, peperoncinis, and TJ's fat free balsamic dressing. she introduced me to that dressing and its quite amazing. she always puts the absolute perfect amount on salads, too...how you do dat whit?
Whitney's Salad
Serves 2 // Serve immediately
Time: 10-15 minutes
Ingredients:
2 cups fresh spinach, washed and chopped
1/4 cup finely chopped red onion
1/2 cup cubed salami
3/4 cup garbanzo beans, rinsed
1/4 cup diced peperoncini (i use this kind)
2 tsp. peperoncini juice
1/4 of a green bell pepper, sliced
1/2 a tomato, diced
1/2 an avocado, sliced
salt & black pepper, to taste
Instructions-
Chop and slice all veggies and ingredients as listed above and place in a large bowl. Add peperoncini juice and the balsamic dressing and toss to coat. Add salt and pepper to taste. Serve immediately.
thanks for the awesome salad inspiration & friendship, whitdawg! love.
qp